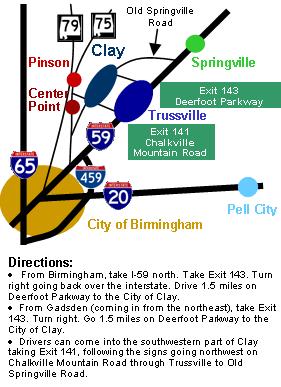 Clay, named after the type of soil found in this area, is located in the highlands of northeast Jefferson County and is bounded by the cities of Argo, Trussville, Pinson and Center Point. As neighboring cities began to expand their boundaries, the community of Clay incorporated in June 2000 with a desire to protect its identity and chart its own course. The original incorporation included an estimated 2,500 citizens. The city boundaries soon spread to include numerous neighborhoods, and the population doubled when the community of Chalkville was annexed into the city. As of 2010, the Census showed Clay's population to be 9,708.
Opportunities:
Housing Opportunities - Clay is attractive for young families and senior citiezens alike. A variety of housing options are available along with undeveloped acreage.
Education Opportunities- The city of Clay is proud of and supports its schools and maintains a positive working relationship with the Jefferson County Board of Education.
Senior Activities Opportunities - The Clay Senior Activity Center is known in the region for physically and mentally healthy activities, exciting entertainment, educational trips and a hot meal every day.
Recreation Opportunities - The city owns four park properties where people play sports, fish, hike or enjoy other recreational activities. Library Opportunity- Clay's library, which opened in 2009, is in a restored 1905 Queen Anne style house. The historical structure, known locally as the Jayfe Ware House, sits proudly in the forefront of the new city park, bridging past and present.
Business Support Opportunity - The Clay-Pinson Chamber of Commerce is made up of at least 75 businesses and individuals that encourage and promote healthy commerce, as well as the community as a whole. The chamber and the city work together on a number of events, such as the annual Clay May Days and Clay Christmas Parade.