COSBY LAKE IS CURRENTLY CLOSED FOR BOATING AND FISHING UNTIL FURTHER NOTICE.
In 2008, the city purchased property at 6275 Old Springville Road, which includes the historical Cosby Lake. The lake and surrounding property has been turned into a passive park with a small building available or rent for events. The city received financial assistance toward this purchase from the Freshwater Land Trust. In turn, the city agreed to grant a conservation easement, permanently protecting this beautiful lake and the natural habitat that thrives there.
At no cost, people can have a picnic, walk along the walking path or boardwalk or throw a Frisbee. Prominently in the geographic center of Clay, the park provides beautiful views, especially in the fall when the colorful leaves on the mountain behind the lake are reflected in the water. A mini-wetland area has attracted beavers and a variety of birds. The Canada geese are often seen feeding on the grass or crossing the street.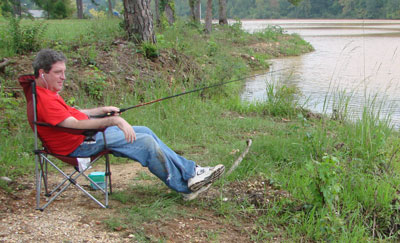 Historically, the lake has attracted fishermen of all ages, and experts report that the lake is still full of bass, crappie, catfish and brim just waiting to be taken home for dinner. Anyone wanting to fish at the lake must get an Alabama Fishing License. The Cosby Lake Park rules include that no motors, except trolling motors, are allowed on the lake.
The Clay Park and Recreation Board and Clay-Pinson Chamber of Commerce use the building at Cosby Lake for their meetings.